Eric Layton
Owner and Lead Guide  
Facebook: Eric Layton  Instagram: @tahoepowderguides 
Eric's love for the mountains and passion for backcountry snowboarding is contagious. Having spent the last twenty five years on a snowboard, I'd say he's hooked! Always stoked to spread the good word of splitboarding along with avalanche awareness one skin track at a time. Originally from Lake Tahoe, Eric spends his winters in British Columbia and his springs in Alaska, searching out the best powder on earth. Guiding professionally since 2007, his passion and expertise for mountaineering and backcountry splitboarding has led him to work as a guide for operations throughout the world. Eric is one of the first snowboarders in the United States to pass the American Mountain Guide Association Ski Exam on his splitboard. He is also an AMGA Single Pitch Rock Instructor and is a Certified Heli Guide through the American Mechanized Ski Guide Program. Now owner of Splitboard Guides International a dedicated splitboard guide company, Eric is proud to share turns all over the world with people who share the same passion. Eric holds a Wilderness First Responder, American Avalanche Institute Level III. Come splitboard this season with Eric and the SGI team on an unforgettable experience in the mountains!!!
Certifications/Education

AMGA Certified Ski Guide
AMGA Single Pitch Rock Instructor
AMGA Alpine Skills Course
AMSG Certified Heli Ski Guide
CSGA Glacier Course
AAI Level 3 Avalanche Certification
CAA Level 2  Avalanche Certification 

CAA Introduction to Weather
CAA Avalanche Search and Rescue Response
Wilderness First Responder
Leave No Trace Trainer
Jason Champion
Enthusiastic about climbing mountains and splitboarding, Jason shares his reverence for the environment and imparts personal knowledge and technique. He has been snowboarding for over twenty five years and guiding for such outfitters as California Alpine Guides and Shasta Mountain Guides. Jason leads backpacking trips through Yosemite, as well as teaches introduction to mountaineering, and glacier travel throughout the Eastern Sierra and Mount Shasta. During the winter he leads backcountry splitboard trips and works as a heli guide in Valdez, Alaska.
Facebook: Jason Champion  Instagram: @sierranevadasplitboarding 
Certifications/Education

AMSG Certified Heli Ski Guide
AMGA Ski Guide Course
AMGA Alpine Skills Course
AIARE Level 2 Avalanche
AAI Level 3 Avalanche Certification
Wilderness First Responder
Leave No Trace Trainer
Justin Ibarra
Justin, a Colorado native and year round guide calls the mountains his sanctuary and his home. He has been snowboarding for the past 18 years and is the founder and lead guide at Colorado Snowboard Guides a sister home of SGI. With the uprise in backcountry use, he quickly saw the need for specific splitboard guides in the field to bring people in the mountains to experience their energy and beauty. Justin finds himself in the field most of the year, guiding long splitboard tours in the Colorado Rockies to hunting steep powder choked couloirs in his backyard of the Gore Range. Justin is currently on the AMGA splitboard guide track, holds a Wilderness First Responder and is an AHA First Aid & CPR instructor. Join Justin and SGI this Winter on an unforgettable splitboard trip throughout Colorado and the world.
Facebook: Justin Ibarra  Instagram: @justinibarra @coloradosnowboardguides
Certifications/Education
AMGA Ski Guide Course
AIARE Level 2 Avalanche
Wilderness First Responder

ACA & Rescue 3 Swiftwater Rescue Certified 

Outdoor Recreation Leadership

High-Angle Rescue Course

CPR & Basic First Aid Instructor
 David Reichel
Splitboard Guide, AIARE Instructor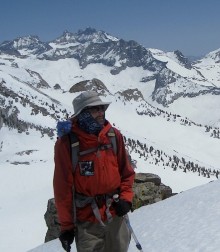 David has over a decade of splitboard guiding experience. He has worked from the Cascades to Patagonia, but spends most of the season exploring the Sierra.  During the winter David enjoys using his splitboard to seek out powder near his home base of Lake Tahoe. Every spring he looks forward to shredding volcanoes up north and splitboarding across the Sierra. His work varies from guiding backcountry peaks, instructing AIARE avalanche courses, to week long Sierra tours. David is an AIARE 1 and 2 course leader and one of the most experienced AIARE 2 instructors around. He has taken AMGA courses in both the snow and rock disciplines. David is a certified Wilderness First Responder, but prefers to limit medical care to dispensing sunscreen and high fives at the end of a great run.
Facebook: David Reichel  Instagram: @davidreichel
Certifications/Education
AMGA Ski Guide Course
AIARE Level 3 Avalanche Certified
AIARE 1 and 2 Course Leader
Wilderness First Responder
Leave No Trace Trainer
Adam Zok
Throughout the snowy months, it's rare to see Adam go more than 24 hours without touching his splitboard.  Whether the day calls for big pow slashes, playful tree runs, sporty pillow lines, or technical snowboard mountaineering, Adam truly loves all aspects of the sport and yes, that includes the climb! With numerous notable descents in California, Wyoming, Alaska, and British Columbia, Adam is frequently on the move and always eager to explore new ranges. During the winter Adam guides heliskiing for Selkirk Tangiers out of Revelstoke BC and on most days off can be found high up on Rogers Pass riding his splitboard. Adam is an Assistant ACMG Splitboard Guide. Come spring Adam heads south and shifts into splitboard touring the Cascades and alpine guiding with Shasta Mountain Guides along with searching out the vast Sierra Nevadas for his next adventure.
Facebook: Adam Zok  Instagram: @adamzok
Certifications/Education                  
ACMG Assistant Guide
AMGA Ski Guide Course
AMGA Rock Guide Course
AIARE Level 2 Avalanche Certification
CAA Level 1 Avalanche Certification
CAA Avalanche Search and Rescue Response
CAA Introduction to Weather
NSP Outdoor Emergency Care
Dave Miller
Technical Director

UIAGM/IFMGA Internationally Certified Mountain Guide & Ski Guide
AMGA certified alpine guide, rock guide & ski mountaineering guide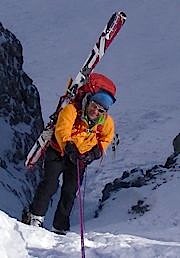 Dave has been climbing and exploring the mountains of California for over thirty-five years. He has worked as a mountain guide in rock climbing, ice climbing, mountaineering and ski mountaineering throughout California, Europe, Mexico and South America for the past twelve years. Dave is the owner of International Alpine Guides and works full time as a climbing guide in the field. Dave lives in the Eastern Sierra minutes from Yosemite National Park and the resort area of Mammoth Lakes.  Dave's alpine climbing experience include long ice faces and rock climbing routes in Washington's North Cascade range, high altitude mountaineering in Peru, Ecuador, and Mexico, ascents in the French and Swiss Alps as well as ice climbs throughout California and Colorado. Dave has also climbed numerous Cascade volcanoes from Mount Shasta to Mount Baker. Twenty-nine years later he considers his proudest climbing achievements to be his multiple one-day ascents of Yosemite's El Capitan and his ascents of remote alpine rock routes in the High Sierra. Dave's ski mountaineering adventures include many glaciated ski tours in the French & Swiss Alps, the Coast Range of British Columbia and Alaska's Chugach Range plus many multi-day ski tours throughout the western United States.
Certifications/Education

Dave is certified mountain guide in alpine climbing, rock climbing & ski mountaineering through the American Mountain Guides Association (AMGA) as well as a UIAGM/IFMGA internationally certified mountain guide in all disciplines. Dave also has a level III avalanche certification and is a Wilderness First Responder.