SPLITBOARD II~ MOUNTAINEERING CAMPS
Sawtooth Range, High Sierra – 4 days
ADVANCED SPLITBOARD CAMPS 2021
Ready to take your backcountry snowboarding to the next level? This comprehensive splitboard mountaineering camp combines backcountry splitboarding with mountaineering to get you higher into alpine terrain. Learn to ride couloirs, steeps and wide open glaciers. We also cover technical mountaineering techniques as they apply to snowboarding big mountain lines. Learn world class standards of mountaineering and get in some great shredding along the way. This trip is a must for any splitboarder wanting to take their skills to the next level.
Splitboard Mountaineering Instruction Covered
Skin Track Setting
Steeps & Couloirs
Snow Anchors
Ropework & Rappelling
Ice Ax and Crampon use
Crevasse Rescue
Navigation & Route Planning
Snowpack Stability Evaluation
LOCATION: Bridgeport, California or Rock Creek Canyon. Only 4 hours from the S.F. Bay  and only 30 min to 1 hour from  the resort town of Mammoth.
For more information on Northern California and the wonderful opportunities the Eastside offers, view our Bridgeport California Travel Page
PREREQUISITES: Advanced level snowboarders with some previous backcountry splitboarding experience. Good physical condition and the ability to carry an overnight pack all day on a splitboard.
PRICE INCLUDES:
Breakfast & dinner while in the backcountry
Group camping equipment, such as tents and cooking equipment
All technical climbing equipment is provided
Professional guiding and instruction from certified local guides
2021 DATES: May 14-17, May 20-24
COST: 1295 USD
*Custom camps can be scheduled throughout the winter, starting in December. Snow conditions permitting.
Maximum guiding ratio of 4:1 and needs a minimum of 2 to run on these dates with these prices.
*This trip is run and operated through International Alpine Guides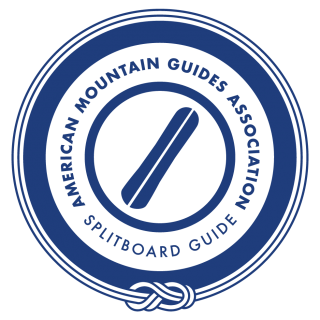 CERTIFIED AMGA SPLITBOARD GUIDES
Use the registration form below to reserve your spot on a trip.  As soon as you are ready to finalize your booking, we will require a deposit or full payment below. We can handle all payments and group registration formalities online. Full payment or remaining balance is due 60 days from desired trip. Fill out our registration form to reserve your spot on the skin track or request additional information as it becomes available  info@splitboardguidesinternational.com | 1.866.95.SPLIT
[et_pb_wc_add_to_cart product="3950″ show_stock="off" _builder_version="4.0.5″ body_font="|700||on|||||" custom_button="on"][/et_pb_wc_add_to_cart]
[et_pb_wc_add_to_cart product="3951″ show_stock="off" _builder_version="4.0.5″ body_font="|700||on|||||" custom_button="on"][/et_pb_wc_add_to_cart]