SPLITBOARD CAMP III~PROFESSIONAL MOUNTAINEERING COURSE
MOUNT SHASTA HOTLUM GLACIER
–
5 DAYS
EXPERT SPLITBOARD MOUNTAINEERING COURSE 2021
Mount Shasta is considered by many to be North America's premier ski mountaineering peak, and for good reason. It provides up to 7,000 feet of riding in one run and from early May to mid June you can find great spring corn conditions. Join us on this five-day splitboard mountaineering camp on California's spectacular volcano.
 We meet in the town of Mount Shasta the first day and then travel to around 9500′ on the Shasta's North East side where we will establish a comfortable spring ski camp to base out of for the next five days. On day two we will set off early from our camp to practice our avalanche rescue skills and overall mountain skills. The afternoon will be spent working ropes on the glacier including ice ax and cramponing techniques in preparation for more technical tours later on in the course. Most of the day will be spent on polishing our already advance skills and learning new tricks.
 On day three, we will begin with a splitboard tour around the nearby glaciers and shred some of many lines in front of our basecamp. To prepare for the climb we ascend to up around 12,000′ and ready ourselves for the summit, followed with a great shred to camp!
 On day four, we have a very early alpine start and attempt the summit of Shasta using ice ax and crampons for our ascent. Then it's time for the reward, six thousand feet of turns high above Northern California. Our preferred descent route is the Hotlum Glacier, the largest glacier by Mass in California.
 Day five is spent with a leisure morning and a little tour to warm up our muscles before descending back down to the trailhead below.
 Join us on the snowboard descent of a lifetime this spring 2021
Includes a combo of splitboard touring & mountaineering. This is a trip of a lifetime for any splitboard mountaineer.
 In 5 days of splitboard mountaineering we can get an amazing amount of great shredding in. We also plan our overnight mission to fine tune our craft of winter camping. The combination of splitboard touring and mountaineering makes for a great big-mountain splitboard adventure.
 This trip includes a certified splitboard mountaineering guide, along with a detailed snow safety and transciever briefing.
 We will also include some splitboard mountaineering instruction
Riding Couloirs & Steep Lines
Crampon and Ice ax techniques
Snow Anchors & Rappelling
Crevasse Rescue on Splitboards
Glacial Navigation & Route Planning
 LOCATION: Mount Shasta, Ca~Hotlum Glacier, Bolam Glacier
For more information on Northern California and the surrounding areas, view our Mount Shasta Travel Page
 PREREQUISITES: Advanced snowboarders with some previous backcountry splitboarding experience or completion of our level 2 camps
 PRICE INCLUDES:
Breakfast and Dinner provided, excellent, freshly prepared meals in the field!!
5 days of splitboard guiding and instruction by certified AMGA local guides
Avalanche rescue gear/technical gear (crampons, harness, ropes, etc.)
Gear for overnight trips (tents, stoves, cookware, etc…)
Splitboard rentals available
 2021  DATES: June 18-22
This trip is operated and run by Shasta Mountain Guides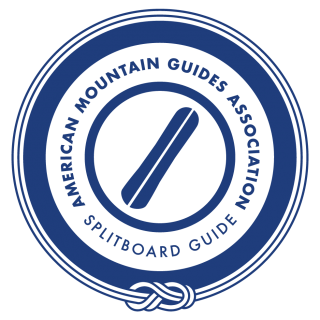 CERTIFIED AMGA SPLITBOARD GUIDES
Use the registration form below to reserve your spot on a trip.  As soon as you are ready to finalize your booking, we will require a deposit or full payment below. We can handle all payments and group registration formalities online. Full payment or remaining balance is due 60 days from desired trip. Fill out our registration form to reserve your spot on the skin track or request additional information as it becomes available  info@splitboardguidesinternational.com | 1.866.95.SPLIT
[et_pb_wc_add_to_cart product="3952″ show_stock="off" _builder_version="4.0.5″ body_font="|700||on|||||" custom_button="on"][/et_pb_wc_add_to_cart]
[et_pb_wc_add_to_cart product="3953″ show_stock="off" _builder_version="4.0.5″ body_font="|700||on|||||" custom_button="on"][/et_pb_wc_add_to_cart]