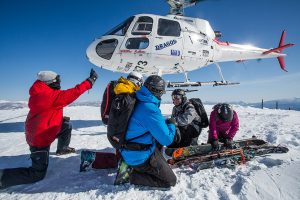 HELI-CAT-SPLIT
Hokkaido Japan
Splitboard Guides International has teamed up with Hokkaido Backcountry Club to bring you world class skiing and snowboarding in Japan. We offer guided heli skiing, cat skiing and splitboard touring trips to unbelievable terrain in the legendary deep snow of Hokkaido's southern powder belt. HBC has the distinction of being among the first organizations in Japan to pair world-class guiding skills with in-depth knowledge of Hokkaido's many resorts and vast backcountry areas. Let us show you why our investment in exploring this powder paradise directly translates to you having the best skiing or snowboarding experience.
SPLITBOARDING
Enter the solitude of Hokkaido's incredible backcountry splitboarding! Whether your looking for an advanced backcountry tour or guided access to the best inbounds shredding around, HBC has it all. Come shred the central Hokkaido region, Shakotan peninsula, or Kariba-yama range, and get ready for a unique visit to many off-the-beaten path resorts, pillow zones, secret areas, and high mountain ranges you won't find otherwise.
HELI SKIING
We operate daily heli trips to the 1,107 meter Shiribetsu-Dake volcano in the beautiful town of Kimobetsu, famous for fresh powder lines and steep ridges covered in beautiful birch forest. The average vertical here is 650 meters (2,130 feet) per run, which means you'll be bagging over 3,000 meters of vertical with our full-day heli packages. All helicopter packages include a certified guide and safety instruction, along with snow safety equipment, including backpack, avalanche beacon and probe. We also provide complimentary transport services from local accommodations, and include guided resort skiing in case of inclement weather. 

Offering the LOWEST guide to guest ration in the world (3:1 if group numbers allow), your group will move quickly and efficiently to access 6 of our steepest runs on 1,107 meter Shiribetsu-Dake. Additional runs are ¥13,000 + tax per run. Runs not used are refunded at ¥16,000 per run. ¥160,000/per person.
PRIVATE HELI SKIING 
Ulitmate freedom and unlimited vertical for up to 2.5 hours of hobbs (rotor) time in a single day. Perfect for large private groups and/or people who want to bag as much vertical as possible. We'll include two certified heli ski guides and the option to build a custom back up program. Unlike other heli operations, we will refund 8580yen/ minute if you don't get the full 2.5hours! – from ¥1,430,000
Please contact us for more information on this package.
CAT SKIING
Experience our Shimamaki snowcat programs and get ready to ride untouched powder on the Karibayama mountain range near the Sea of Japan! Like all backcountry skiing, the number or runs, amount of vertical and terrain skied will depend on the avalanche conditions and the groups ability. Our record for the most vertical skied in a day was 13 runs (6,500meters)
Rates for 2016/17 season
2 days, 2 nights – ¥145,000 / person
4 days, 4 nights – ¥275,500/ person
PRIVATE CAT SKIING – ¥520,000 / day – up to 12 people
Accommodations for private cat guests – ¥13,000/person per night
Let us customize a Japow splitboard trip for you